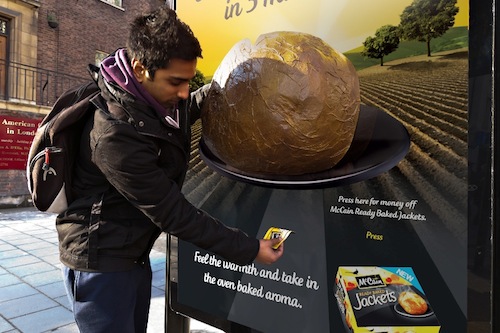 If you're nosing around for new ways to make your brand stand out, then advertising with smell could be the answer. According to a 2012 study by Utrecht University in the Netherlands, smell can trigger powerful emotional and cognitive reactions – which is something companies would love to cash in on. Another plus side to using scents is that smell, unlike light and sound, can't be easily filtered out and ignored.
In one interesting campaign, Santa Barbara-based fragrance firm ScentAndrea used "scent cannons" to emit the smell of fresh coffee by the pumps at a gas station. "We're only testing and we're showing an incredibly high sales lift of coffee [being sold after customers fill up their tank]," said ScentAndrea's CEO Carmine Santandrea. In fact, the initiative boosted the gas station's coffee sales by a whopping 300 percent. While many of the ideas on this list can't boast those kinds of numbers, they do give us a glimpse into the challenges and possibilities of using smell to sell.
10. Bloom – Steak-Scented Billboard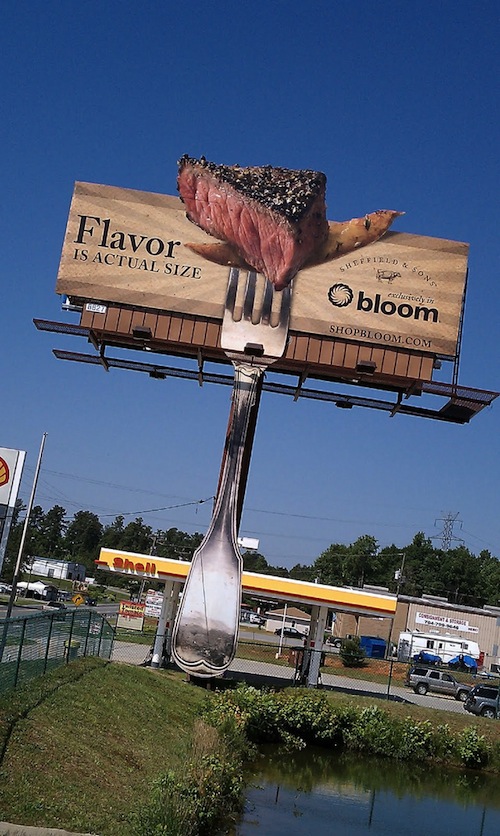 This meaty ad created for the now defunct Bloom grocery stores was no ordinary billboard. When it first popped up on a busy North Carolina highway in June 2010, the ad generated so much hype that it was featured on CNN, the Today Show, TV game show Who Wants to be a Millionaire? and in Japan's Nikkei Marketing Journal.
But why did it make headline news? Well, the ad was unique because it sent the smell of grilled steak wafting into nearby commuters' cars. What's more, People for the Ethical Treatment of Animals (PETA) drew even more attention to the billboard's debut by threatening to put up a radical response billboard featuring "the real smell of meat:" blood, rotting flesh, urine and excrement. The original billboard was fashioned by advertising agency Birdsong Gregory to promote Bloom's own Sheffield & Sons brand of Angus beef. According to the agency, Bloom enjoyed improved sales in its meat department thanks to the "world's first scented billboard."
9. Mr Kipling – Cake-Scented Ad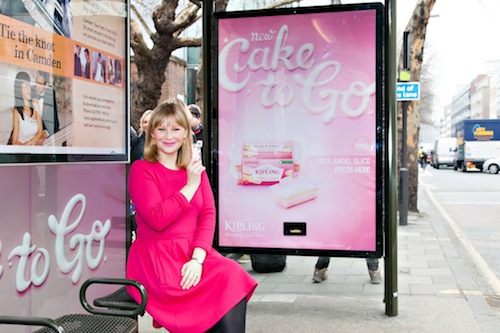 In 2012, UK-based cake company Mr Kipling released unique scented bus shelter billboards that made it possible to smell your cake and eat it, too. The campaign's posters pumped out the delicious aroma of cake and also distributed free Mr Kipling Angel Slices. The aim: to lure potential customers into trying the brand's new "snap packs" for on-the-go eating. Nineteen different bus shelters each distributed as many as 500 packs a day across the UK. Starcom, 101 and JCDecaux collaborated to make the campaign a reality.
Giving out free samples is far from a new marketing tactic – but combining this with modern technology adds a cutting edge and novel sensibility to the tried and true approach. The campaign was so successful that the strategy was repeated in December of that same year, this time featuring free Mr Kipling Christmas Cake Slices, holiday smells and Christmas carols.
8. Wagg Foods – Dog Food-Scented Ad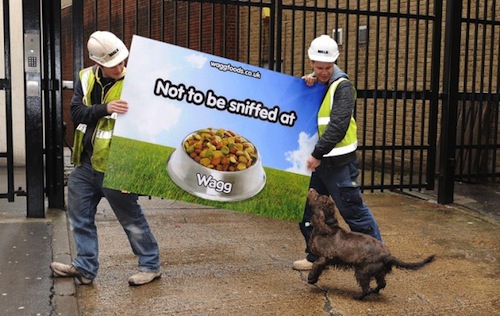 In March 2010, dogs in Soho, London went ballistic when their owners happened to walk by Wagg's specially scented dog food ad. Since dogs' sense of smell is thought to be a minimum of 100,000 times stronger than our own, Wagg Foods chose to target pets instead of owners with this innovative campaign.
"Dog food is usually marketed towards owners, but we decided that it was time to put the dog at the centre of things – after all, they're the ones that enjoy our products," said Wagg Foods sales and marketing director Tom Page. The company's researchers worked really hard to invent an aroma that pooches would love as much as the taste of the food – and they were apparently successful. London resident Sara Vincent said her dog Tilly was more than convinced by the adverts. "She started sniffing and barking," she explained. "I had to literally pry her away from it." The ad accumulated a great deal of press coverage and was featured in a national UK newspaper, on various websites, and on a popular radio show.
7. Got Milk? – Cookie-Scented Ad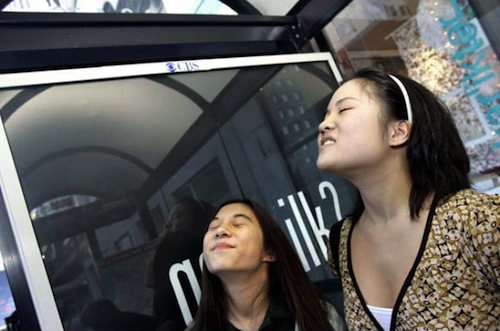 Milk isn't known for its tempting aroma; freshly baked chocolate chip cookies, on the other hand, are. In December 2006, the California Milk Processor Board launched a scented advertising campaign in five San Francisco bus shelters. Since many Americans enjoy eating chocolate chip cookies with a cold glass of milk, the smell of the delicious treats was aimed at increasing dairy sales.
The bus shelters were outfitted with posters instilled with scented oils and displaying the "Got Milk?" slogan. Louis Zafonte of Arcade Marketing, the company that created the ads, explained the philosophy behind the idea: "Scent is the primary driver of memory," he said. "When you smell baby powder or chocolate chip cookies, everyone feels good." However, although some people said that the aroma was preferable to the usual urban smells, others weren't so enamored with it. Sadly, the ads had to be taken down after just 36 hours amid concerns that the fragrance would trigger allergies, offend the homeless by making them feel hungry, and even encourage obesity.
6. Bloom – Peach-Scented Billboard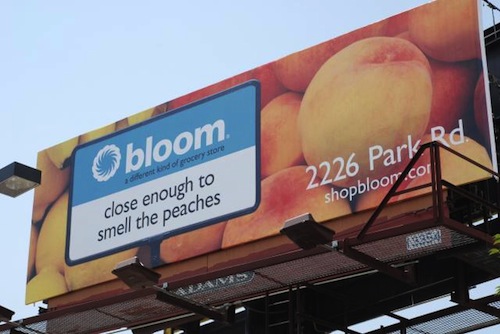 der
In August 2010, Bloom grocery stores took another stab at scented advertising with this peach of a billboard in the southwest end of Charlotte, North Carolina. This time, not even PETA could complain, as Bloom used peach aromas to promote fresh produce at one of its new stores. Ad agency Birdsong Gregory was the company behind the billboard, which encouraged commuters to roll down their windows and enjoy the fruity fragrance.
ScentAir, the scent-centric branding agency that created the grilled steak smell previously employed by Bloom, claims that "by targeting the senses, brands establish a stronger and enduring emotional connection with their consumers."
5. New Jersey State Fair – Cotton Candy-Scented Billboard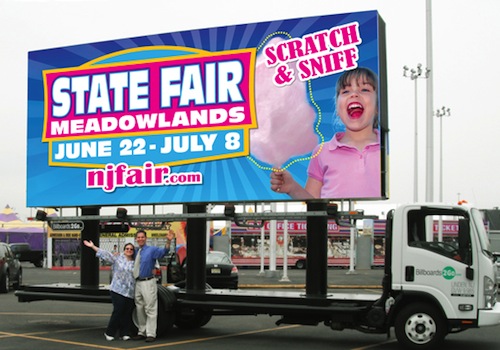 Starting on June 16 (Father's Day), 2012, two billboard trucks with special scratch 'n' sniff panels made of scent-soaked fabric hit the streets to lure people to the New Jersey State Fair. The bait: the nostalgic scent of cotton candy.
Designed by New Jersey-based ad agency NJ Creative Direction, the billboards took the sweet fair smell to malls, downtown areas and other places of interest across New Jersey and Staten Island, New York, giving shoppers a chance to scratch and sniff jumbo-sized sticks of cotton candy. President of the State Fair Group Al Dorso enthused, "The smell of cotton candy evokes memories of summertime and fun."
4. McCain Foods – Baked Potato-Scented Ad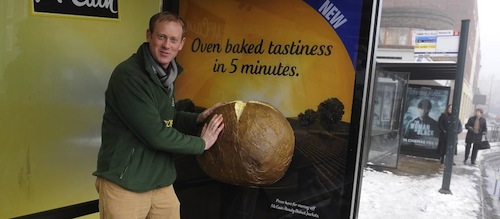 In February 2012, the UK arm of McCain Foods worked with a team of creative agencies and a scent laboratory to design a wave of unique bus shelter ads that were put up across the UK. The bus shelters were equipped with a button that, when pressed, made a fiberglass 3D baked potato emit heat as well as the smell of a freshly baked spud. The ad even dispensed discount coupons.
The campaign ran in London, York, Manchester, Nottingham and Glasgow as part of a campaign to promote McCain Foods' Ready Baked Jackets. "We're adding a whole new meaning to try before you buy," said McCain Foods head of brand Mark Hodge. One of the advantages of using smell campaigns is that they can create great PR opportunities and generate a lot of press coverage.
3. Dunkin' Donuts – Flavor Radio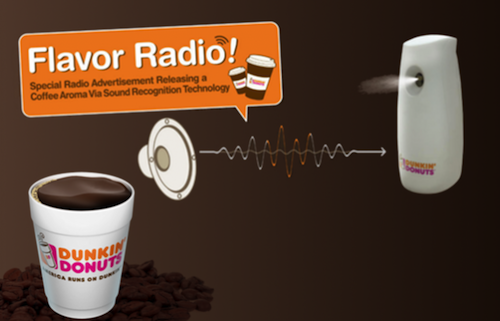 Dunkin' Donuts' unique 2012 campaign in Seoul, South Korea would have made famous Russian scientist Ivan Pavlov proud. A special scent spray system known as Flavor Radio was installed on the city's buses. The sprays were cunningly designed to release the aroma of freshly brewed coffee when triggered by a Dunkin' Donuts radio jingle on the buses' radios – masterfully linking the smell to the brand.
Most people tend to like the smell of coffee, and the scheme seems to have had a positive effect. Dunkin' Donuts reported a 16 percent rise in the number of visitors at selected locales. It also boasted a 29 percent increase in coffee sales as a direct result of the campaign – which was the work of marketing agency Cheil Worldwide. The aromatic marketing push took place over several months and reached some 350,000 commuters.
2. Old Spice – Scratch 'n' Sniff Online Banner Ad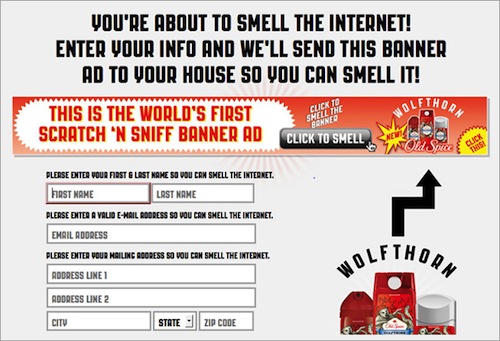 In April 2013, Old Spice created a rather tongue-in-cheek online campaign to promote its new Wolfthorn product range. The men's toiletry company claimed to have invented the Internet's "first scratch 'n' sniff banner ad," enabling browsers to literally "smell the Internet." The banner ads appeared online in the sports section of satire newspaper The Onion – which should have been the tip-off.
Of course, it's still impossible to send smells via the Internet, so don't bother sniffing your computer screen just yet. Clicking on the banner ad encouraged zealous "sniffers" to fill out a form with their information, enabling Old Spice to send them a real scratch 'n' sniff ad in the mail. Thinktank.org said the campaign fitted right in with the brand's off-the-wall advertising, describing it as "clever and amusing."
1. Domino's – Pizza-Scented DVDs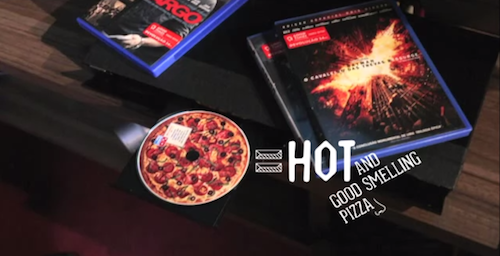 Domino's Pizza Brazil may have orchestrated the most innovative "smell-o-vision" marketing campaign yet when it teamed up with ten São Paulo and Rio de Janeiro movie rental stores to bring the smell of fresh pizza to home movie fans. Select DVDs were covered with deceptive thermal ink which, after reacting to heat generated by the DVD players, released the smell of delicious, freshly made hot pizza – or more specifically, pepperoni and melting cheese.
As an added bonus, when the disc was ejected after the movie ended, the DVD looked like a mini Domino's pizza. The discs also displayed Domino's phone number and the text, "Did you enjoy this movie? The next one will be even better with a hot and delicious Domino's Pizza."
Domino's purposely chose popular films such as Skyfall, The Dark Knight Rises and Argo for the campaign, which was created in collaboration with the São Paulo-based arm of advertising agency Artplan and took place in 2013. Interestingly, although Netflix and other streaming services have marked the demise of traditional rental stores in the US, the Brazilian DVD market is still flourishing owing to a lack of fast Internet. Arguably, this demonstrates the vital importance of knowing your audience when launching an innovative marketing campaign.