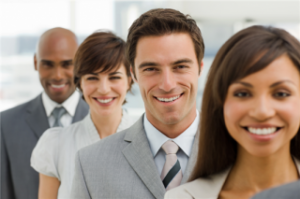 Masters in Marketing Careers offer motivated professionals a dynamic work experience in a field that merges imaginative thinking with strategic planning, providing constant opportunities for collaboration and creativity. Masters in marketing programs are less common than traditional MBA programs with optional concentrations in marketing, but are worth seeking out for degree candidates interested in a more in-depth marketing education.
Those schools that do offer specialized masters in marketing degrees tend to be top-notch academic institutions. Examples include Columbia University, an Ivy League school with a master's in marketing curriculum that includes PhD-level coursework, and Texas A&M University, where master's in marketing students engage in a semester-long project with one of the program's more than 60 corporate sponsors. Some degree candidates may require greater academic flexibility than a traditional campus setting can provide, making an online program a more attractive alternative. When searching for the best online masters in marketing degrees, it's important to make sure that the school in question is accredited and that it offers a rigorous, well-rounded curriculum. One option is the online M.S. in Marketing offered by Southern New Hampshire University–a private, non-profit university.
Details of Masters in Marketing Careers
Graduates of a master's in marketing program can work in a variety of settings. Popular industries for marketing professionals include advertising and public relations services, technical services, civic or religious organizations and the finance and insurance industries. Professionals with a masters in marketing degree are competitive applicants for positions as advertising managers, market research analysts and public relations managers, to name a few.
Advertising managers create the buzz behind a brand, product or service. They work both creatively and strategically to generate customer interest, while managing budgets, negotiating contracts and overseeing advertising staff. Advertising managers take an advertisement campaign from the conceptual stages to its debut on the Internet, over the radio, in magazines or in whatever form of media the advertising team has chosen as the best way to reach the targeted audience. According to the Bureau of Labor Statistics, advertising managers earned a median salary of $83,890 in 2010.
Market research analysts help companies to understand what their customers want, and at what price. By developing and using surveys, questionnaires and opinion polls, market research analysts are able to collect detailed data on consumer needs, preferences and purchasing habits. They also monitor market conditions, sales trends and competitor performance.  As of 2010, market research analysts earned a median annual salary of $60,570, according to the BLS.
Public relations managers ensure that clients project the desired image or message to the intended audience. They oversee a client's communications with the public, writing press releases, drafting speeches and arranging interviews. They may also plan and sponsor corporate events to improve or maintain a client's public visibility.  The BLS reports that in 2010, the median annual salary for public relations managers was $91,810.
The Bureau of Labor Statistics predicts consistent growth for most marketing jobs over the next decade, and a strong academic background can provide an edge over other job applicants. Careful academic planning can help to open the doors to a range of exciting and lucrative masters in marketing careers.