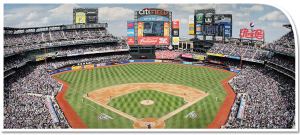 A person who would like to build a career in the field of sports marketing may want to know if it's possible to earn a Master's in Sports Marketing. According to The Chicago Tribune, There is evidence that sports marketing is an expanding field of work. Plus, there are a variety of careers found within it. The following looks at whether a master's degree in the area of sports marketing is available. Also, learn about a few specific occupations in this field.
A Master's Degree in Sports Marketing
Yes, there are masters degree programs in the area of sports marketing. This advanced degree is ideal for someone who wants to add further educational credentials to their resume. Also, this degree program would benefit someone who wants to delve deeper into the issue of how marketing works. Some examples of topics of study in this degree program include the various methods of marketing and how to appeal to a particular demographic. Someone with a master's degree in this field has a deeper understanding of these subjects than someone with only a bachelor's degree.
A Sports Marketing Manager
A sports marketing manager is just one example of an occupation in this field. This professional, with the help of a group of employees, comes up with promotions that advertise the sports team he or she works for. The goal is to attract more people to games and persuade them to become loyal fans. When a team has a tremendous number of fans, it sells a lot of tickets, team gear, water bottles and other related accessories. A team that is very popular with fans can make a large profit.
A Sports Marketing Graphic Designer
A sports marketing graphic designer creates the artwork for various items related to a particular sports team. Sometimes people in this occupation are known as visual designers. A sports marketing graphic designer creates the look of a team's tickets. Also, this professional works on the print ads as well as the online ads that try to entice people to attend a game. Many teams have unique mascots, logos and other details on their apparel that is immediately recognizable. A sports marketing graphic designer often plays a big part in creating these things for a team. This person must know what color combinations appeal to people and what will grab their attention. A sports team with creative ads will get the attention of both loyal fans and people who are looking for a new team to follow.
Related Resource: Public Relations Manager
Sports Marketing Communications
A person working in sports marketing communications has the responsibility of creating press releases and other announcements about the team. These pieces are put online or given to the media. This professional knows how to phrase an announcement or press release in a succinct way. The written piece will communicate exactly what a team wants the public to know. Plus, if the team has a new development to announce, a sports marketing communications professional can help to build excitement about the team's upcoming news.
Finally, these are just a few of the job opportunities that exist in the field of sports marketing. It is likely that someone with a Master's in Sports Marketing will be better prepared for work in this field than someone with less education.