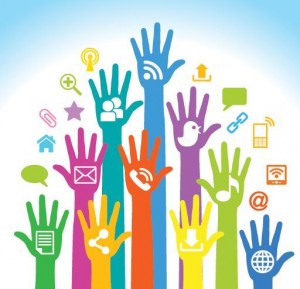 The career fields of marketing and advertising are closely affiliated, and there are many opportunities for business professionals to work in marketing with an advertising degree. The tie that binds the two professions together is the common objective of selling a product, service or idea to a targeted group of people. This involves researching the buying preferences of prospective customers, understanding their primary communication channels and creating a message for the customer that conveys the value of what is being sold. That message is formed through the creative use of text, graphics and the distinctive style of different brands. Here are just some of the marketing jobs in which those with advertising degrees tend to excel.
Promotions Manager
Creating provocative promotional messages is a key function of marketing activities when selling a product, service, idea or brand. The short-term goal of these promotions is to stimulate the interest of prospective clients to buy what is being sold by a particular company, but the long-term objective is to build loyalty for a company's brand. Some traditional and contemporary promotional activities include personal selling, direct marketing, social media marketing and value added content creation. Promotions managers research the buying and communication preferences of prospective customers, plan advertising and promotional campaigns and oversee the work of subordinate marketing staff members, according to the Bureau of Labor Statistics.
Graphic Designer
When it comes to communicating a sales message in print or in media, many consumers respond better to picture and graphics than they do to text rich communiques alone. This is especially true when it comes to advertising on the Internet. Often, a marketer only has seconds to capture web surfers' attention before these visitors lose interest and leave the site. That is why today's business websites feature stunning graphics that help to provide the interactive customer experience that catches and keeps viewers' attention. Graphic designers are the key people responsible for this portion of a company's advertising and marketing campaign.
Copywriter
Although a website's graphics may please casual visitors, it is the website's content that inspires prospective customers to bookmark the site, follow it on Twitter and share their experience with friends on other social media platforms. Marketing content that helps advertise products for sale is often written by copywriters. These individuals use their creativity to write the cheeky slogans, persuasive website landing pages and informative sales brochures that are common in the marketplace. Copywriters must understand the brand to know when to pour on the humor, and the times when they must write a more sedate advertisement. A mix of creativity and a strong command of language and grammar are characteristic traits of copywriters.
Advertising Account Coordinator
Many marketing activities are conducted within offices by advertising professionals like account coordinators who support the business side of promotions. Their work is rarely seen by the public in contrast with the work of creative types like graphic artists and copywriters. Advertising account coordinators are generally employed by advertising agencies, and they are the main points of contact for clients who have contracted with an advertising and marketing agency for product, service or brand promotion. Advertising account coordinators mainly use business management and communication skills as well as keen knowledge of standard advertising practices in their daily activities.
Related Resource: Internet Marketing Jobs
Conclusion
There are a number of career opportunities in marketing for business professionals with undergraduate degrees in advertising, and they include positions on both the creative and business sides of marketing. In fact, many employees who work in marketing with an advertising degree often find that more employment opportunities open for them because they chose such a specialized academic degree.