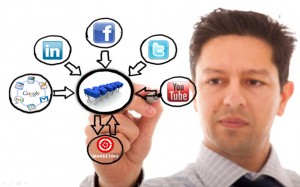 Marketing is a hot field with many career opportunities, but if you specialize a Master's degree in marketing, you can create even more opportunities for yourself, according to an article in Forbes. With a Master's degree in marketing, you can work in management, allowing you to become a creative director or the lead for a marketing team, or you can make yourself more competitive for jobs at bigger companies and for more prestigious projects. If you specialize a Master's degree in marketing, you can make yourself even more marketable.
Choose Courses Carefully
Though most graduate programs include a certain number of courses that you are required to take to finish your degree, there are a number of credits that are left open for you to decide. You can take charge of your training and establish a specialty in your choice of courses. By clearly defining your career goals before you begin your program, you can make better choices for courses to get the exact training you need.
Work with the Right Faculty
Before you ever enroll in a single class, you should research the faculty at the school you plan to attend to learn about their research interests and experience. By taking classes with faculty who share your interests, you can deepen your education and specialize your degree. Doing this faculty research should be a key part of your school research during the application process, as well.
Complete Research Projects
Original research is an expected part of completing your master's degree. Most programs require that you complete a Master's thesis, which is usually an 80- to 90-page document on a research topic of your choosing. Whatever choice you make for your thesis will automatically be your specialty. It is important to make this choice wisely and then to reinforce it with the topics you choose for your other research papers throughout your program.
Related Resource: Types of Marketing
Get Experience
You don't have to wait until you graduate to start getting professional work experience. The types of jobs you have while you are completing your degree can help you specialize a Master's degree in marketing. Whether it be internships, work study programs or part-time or full-time jobs, the experience you get will complement your learning and vice versa. When employers review your resume, they will pair your work experience with your education to determine your area of expertise. That specialty will help you stand out from your competitors. Your faculty mentors can even help you find work experiences through their connections.
When you specialize a Master's degree in marketing, you create a lot more opportunities for your career. You can specialize in business, human resources or management to make you a better manager. You can specialize in a specific area of marketing, such as marketing for health care or online marketing, to get ready to work in a specific niche. Before you can decide on your area of specialty, you must decide on your career goals. Do you want to work in management, or do you want to stay active in marketing by planning the campaigns? Your answer will influence how you specialize a Master's degree in marketing and, ultimately, what you are able to do with that degree.