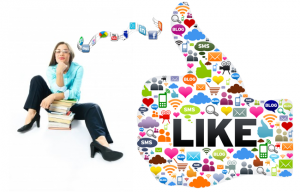 Social media is being used for much more than just entertainment and socializing, and now you can specialize in Social Media Marketing while attending a higher education program. If you have always dreamed of being a marketer and you want to work for a top ranking corporation or a huge marketing firm, you may want to consider specializing in a single marketing strategy that is getting all of the attention today. With so many different businesses adjusting the marketing plans to siphon more of their marketing dollars to social media platforms, choosing this as your specialty can payoff. Read on, and learn how to get educated in this area of marketing so that you can strengthen your resume.
Add the Social Media Concentration to Your Bachelor's in Marketing
If you were to ask the youth of today, social media has been around forever, but in the world of marketing it is a very new platform. The platforms that were once strictly for entertainment, like Facebook and YouTube, are now platforms that businesses can integrate into their marketing strategies to influence consumer behaviors. You may not necessarily need to specialize in Social Media Marketing to land an entry-level position in the field, but choosing this specialty can land you an upper-level position faster.
One of the most popular ways to specialize in Social Media Marketing is to take a general Marketing degree program with a concentration in Social Media. If you do this, you will learn about a new area of marketing study that many students do not know much about. The coursework that you cover will equip you with the knowledge that you need to manage effective social media marketing campaigns fresh out of school so that you can show employers you have the background you need to strengthen the company's customer base and reinforce their brand. Typically, concentrating on social media will require you to complete at least 12 credits of specific coursework in the area of study.
What Can You Do with a Specialty in Social Media Marketing?
You will learn more than just to post marketing messages to your company's business page or attract followers when you earn your degree in social media. This degree will also teach you how to integrate social media into a well-balanced marketing mix, how to increase brand engagement, how to influence purchasing, how to shape the market discussions, and how to increase your market share using this new marketing strategy. Obviously, being a specialist in this method of marketing can benefit you in several ways.
If you would like to know what your opportunities will be if you are a talented social media marketer, you will be happy to hear that they are vast. With this type of concentration, you can pursue jobs as a marketing manager, online marketing specialist, competitive intelligence manager, a social media coordinator, or even an entrepreneur. Your salaries will depend upon the title that you are pursuing.
Related Resource: Brand Marketing Manager
Companies of all sizes are choosing to embrace social media. The platform is not going anywhere, and marketing specialists need to know the basics at a minimum. Social media jobs are thriving. In fact, 6 of the most high-demand titles today are in social media, according to Career Builder. If you want to compete for these titles, choose a college degree where you can specialize in Social Media Marketing.