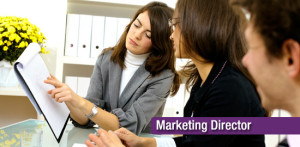 If you have a passion for marketing and enjoy planning programs that peak consumer interest in a product or service, then becoming a director of marketing is probably your ultimate career goal. Marketing directors are employed in virtually every field as senior-level executives to lead marketing staff in creating promotional campaigns targeting the company's potential customer base. A director of marketing is also given the final say on developing a pricing strategy that both maximizes the business's profits while keeping consumers happily buying. According to the Bureau of Labor Statistics, employment of marketing directors and managers is expected to grow slightly faster than average at 13 percent to create 22,900 new jobs before 2022. Due to the responsibility of the in-demand career, the following are the steps that must be taken to become a marketing director.
Acquire a Relevant Bachelor's Degree
Before jumping into the marketing scene, you'll likely need to earn at least a four-year bachelor's degree from an accredited business school, even for entry-level work. Most aspiring marketing directors will choose to pursue their undergraduate major in marketing, advertising, economics, statistics, business administration, management, or communications. Regardless of your major, it will be advantageous to take courses that introduce you to fundamental knowledge in sales, marketing, consumer behavior, advertising, promotions, visual arts, communications, and market research. Electives related to technology are also helpful for learning marketing tools used to maximize traffic in online search results. Completing practicum or an internship while earning your bachelor's degree will develop a strong resume too.
Attend Graduate School for Marketing
Directors of marketing are given an extensive amount of responsibility on the executive team, so knowing marketing concepts, methods, practices, and tools inside and out is essential. This in-depth knowledge is typically developed when individuals decide to head back to graduate school for earning a master's degree in marketing. You can choose to pursue a specialized Master of Science (M.S.) in Marketing or work towards an MBA with a concentration in marketing. Make certain that your business school is accredited by the AACSB International for receiving the highest quality in education. Along with classroom learning, most master's programs include an internship and capstone to thoroughly understand the inner workings of contemporary marketing.
Build Marketing Industry Experience
Starting your career at the top as the director of marketing isn't plausible, so you'll first need to pay your dues by racking up several years of work experience within the industry. Get your feet wet by taking on entry-level jobs in marketing and expanding your network of professional connections. You may need to start as a sales representative, purchasing agent, advertising manager, or public relations specialist, but your proven performance will work wonders in receiving promotions. Most marketing directors first work as assistant brand managers and brand managers before receiving their call to leadership. Becoming credentialed as a Certified Marketing Management Professional (CCMP) through the International Institute of Marketing Professionals may aid in faster promotion.
Related Resource: Marketing MBA
Overall, marketing directors are highly trained leaders who use their expertise in planning, coordinating, and overseeing the implementation of their company's marketing campaigns. Although marketing professionals need to put a lot of time into their schooling and gaining work experience to reach the role, becoming a director of marketing will certainly pay off with unlocking a six-figure average salary potential of $137,400 each year.