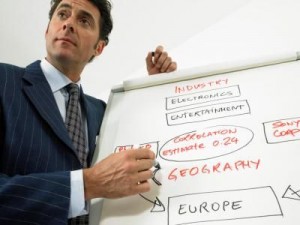 How much does a marketing director make? According to the U.S. Bureau of Labor Statistics, marketing managers and directors make an average annual salary of $133,700, or an hourly wage of $64.28 an hour. Read on to learn more about the highest paying marketing director jobs, as well as the education and experience needed to become a marketing director.
Role of a Marketing Director
A marketing director is typically the top marketing executive in a company. He or she is responsible for planning and executing the organization's marketing strategy, including identifying potential customers, developing strategies for pricing goods and services, maximizing profit, and overseeing product development and advertisement. Professionals in this role must have sharp analytical and communication skills as well as strong creativity and ability to work with others across an organization.
Becoming a Marketing Director
Most marketing directors have a bachelor's degree in marketing combined with several years of relevant work experience. This is a competitive industry, so completing internships with companies for whom you're interested in working is a great way to get your foot in the door. Once you become a marketing assistant, you can work your way up into a director role, which typically requires five to seven years of experience.4.
Highest-Paying Industries for Marketing Directors
According to the U.S. Bureau of Labor Statistics, the highest payed marketing directors work in the oil and gas industry, followed by financial investment, mineral mining and quarrying, securities and commodities, and scientific research and development. If you're interested in becoming a marketing director in one of those fields, a double major or a minor is a good way to gain expertise before you graduate.
Highest State and Regional Marketing Director Salaries
New York is the state with the highest mean wages for marketing directors at $172,800, followed by New Jersey, Pennsylvania, California, and the District of Columbia. Texas, Colorado, Washington state, and the mid-Atlantic region all tend to pay higher wages for marketing directors than the national average. The highest paying cities for marketing managers are, from highest, San Jose, CA; Williamsport, PA; New York, NY; San Francisco, CA; and Philadelphia, PA.
Employment Outlook for Marketing Directors
This career is projected to grow by 13 percent over the next decade, which is about average for all occupations. Because the role of marketing directors is tied to the fiscal health of an organization, they typically enjoy strong job security. The tobacco industry employs more marketing directors than any other industry, followed by information services, software publishers, and management of companies and enterprises.
Related Resources: Marketing Manager
While competitive, marketing directors enjoy high salaries and a fair amount of job security, particularly those in large metropolitan areas and specialized fields. However, the answer to the question: "How much does a marketing director make?" largely depends on industry, region, and years of experience for the individual in question.