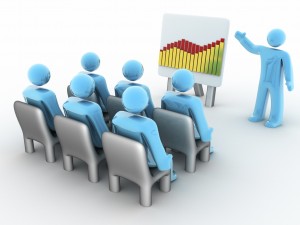 Do you know what a marketing consultant does on a daily basis? If you are in the process of earning a degree in marketing, or you are interested in pursuing a new occupation in the field, it is important to research many different positions so that you can decide which is best for you. As a marketing consultant, you will work with one or more organizations to help them design a marketing campaign, expand the company's book of business, or modify a campaign. They will perform a variety of different tasks on a daily basis that are marketing related. Here are some of the main duties and responsibilities of a marketing consultant:
Identifying the Most Effective Tactics to Bring in New Business
Not all marketing tactics work for all companies in every industry. A company must consider their short-term and long-term goals as well as their target market and budget to choose marketing tactics. A marketing consultant may work with an internal marketing team or with executives to identify new and effective ways to bring in customers that they would like to target. By working with the team, you will discuss all of the tactics that have been used in the past and which new tactics can be used in the future to bring in more customers while still earning a return on investment.
Branding, Damage Control and Brand Recognition
If you specialize in creating a brand, you may help create a logo and the company's entire presence online and through marketing materials. Some companies may not require help shaping the brand, but they may need help to protect the brand or revive it when it has a negative image. Using the media and PR tactics, you can help with damage control so that the company can maintain their market share even in bad situations. In everyday situations, a consultant's job will be to maintain the brand and market it so that it is recognized by the majority.
Editing and Creating Marketing Materials
Most companies will already have a set of marketing material copies that are being used for mailers, trade shows, brochures and mass emails. It will be the marketing consultant's job to review these materials and see why the company is not getting the responses it should. As a consultant, you will evaluate the material and give feedback on how to make it more effective. You may need to give tips on how to make it more professional looking, more cohesive with the brand, or more effective in building trust with the market. By evaluating the response rates to the average response rates, a consultant can get a feel for what is and is not working.
Related Resource: Social Media Marketing Jobs
A marketing consultant can wear a number of different hats for an organization. One day they may be reviewing the client's social media presence and the next may be focused on developing strategies to target a new market. If you want to work in consulting, you need to be experienced with all areas of marketing and able to present yourself as a marketing expert in traditional and modern digital efforts, according to CNN Money. To become an expert, you will need a degree and years of experience. Now that you know what a marketing consultant does, you can decide if this is the path that you want to travel down.