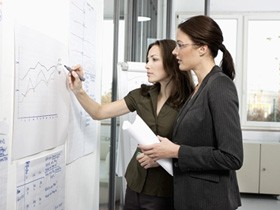 If you are interested in pursuing a career in the field of marketing, you may at some point have asked yourself what exactly is a Marketing Manager? By reading the outline found below, you can gain an answer to this important question as well as several others that pertain to the field of marketing management.
Marketing Manager – A Brief Overview
Marketing managers are individuals who design and implement strategic plans and/or programs for the purpose of generating interest in a client's goods or services. To accomplish these objectives, marketing managers work with sales agents, financial staff members, and art directors.
Types of Marketing
There are two main types of marketing that marketing managers will make use of in order to advance the interests of their employers. They include:
Inbound Marketing
Although broadly defined, inbound marketing is a form of advertisement that involves the use of internet mediums such as blogs, videos, search engine optimization (SEO), social media optimization (SMO), content marketing, enewsletters, and e-mail campaigns. Each of these online elements can be employed by the marketing manager to increase the visibility and branding efforts of the client.
Outbound Marketing
Outbound marketing is a traditional form of marketing that involves using mediums like direct mail, cold-calling, radio advertisements, brochures, flyers, and telemarketing to provide prospective customers with information regarding the client's goods and services.
Educational Requirements
Generally, individuals who wish to become a marketing manager obtain a bachelor's degree in a field such as marketing or advertising. However, individuals who obtain degrees in related fields such as communications, human resources, or business management can also attain jobs in this sector. People who earn master's degrees are oftentimes more marketable job candidates than peers who have not done so. To learn the specific educational requirements that an employer requires, it is important to view a company's website or speak with a hiring representative to obtain a precise answer.
Salary
The U.S. Bureau of Labor Statistics reports that the average annual salary for marketing managers in May of 2012 was $119,480. This salary is subject to change based upon a variety of factors, some of which include experience, education, areas of expertise, and location. For example, a marketing manager in California can expect to earn $71,000 annually while those employed in Georiga will typically earn about $76,000.
Job Outlook
Employment of marketing managers is expected to grow at a rate of 12% between the years of 2012 and 2022. This is about as fast as the national average for all vocations. The expected growth is attributed to the fact that marketing managers are needed by businesses and organizations who want to experience continual growth and expansion.
Related Resource: Marketing MBA Jobs
Conclusion
If you have given any consideration to working within the field of marketing, opting to become a marketing manager could help you accomplish some or all of your professional goals. Now that you know what exactly a Marketing Manager is, you can determine whether the pursuit of a career in this sector would be advisable for you.