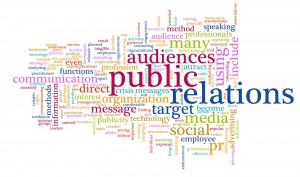 What is a public relations manager? In a single phrase, a public relations manager is the face of your company in the eye of the media. While this might sound like a very simple definition, a PR officer can wear several different hats within an organization. If you are planning on studying public relations or communications, you may be interested in learning more about what a PR officer does on a daily basis. Below is a guide of duties and responsibilities of a PR manager to help you can decide if this is a career you should pursue.
Daily PR Tasks
A day in the life of a public relations manager can be tedious. As a marketing professional, a manager in charge of PR will be in charge of all aspects of communicating information about the organization to media outlets and the community. You may work with a marketing manager or on your own to develop publications that will be dispersed to the community, or even attend community events to generate interest in the company.
In addition to writing publications, a PR manager may also oversee other specialists in the departments in the process of writing press releases. Press releases are newsworthy articles that inform the media about upcoming events, product launches or dates so that the company can cultivate relationships with other businesses or with consumers throughout the community. In addition to editing press releases, you may also contact media members directly to attend special conferences you may hold to answer questions or honor the company.
Related Resource: Social Media Marketing
Facing the Media in the Wake of a Crisis
While public relations managers oversee the department in charge of communications and marketing, it is also common for a PR manager to manage the budgets of the department so that the events are a success but not too expensive. In addition to doing the tedious management tasks, press release professionals have a unique talent to diffuse crisis situations when they arise. This is perhaps the most challenging and sometimes the most important function of a PR manager.
As a crisis manager, the PR officer will handle the floods of media inquiries that come in if a crisis or situation should occur. By having a specialist on stand-by who is trained in dealing with reputations in a community or online, the company can portray itself in the best way possible and regain its standing in the market quickly. A crisis is never easy to deal with, but almost all companies have a small or large disasters to deal with, and PR managers need to be equipped to deal with matters of all sizes.
If you are entering into a college degree program to study communications or a related major, you need to assess all of your career options after you graduate from school. If you are a very dedicated individual who is not intimidated with the idea of being the face of a company in good times and in bad, PR may be the right department for you. According the Bureau of Labor Statistics, public relations employment is predicted to grow by 13% in the next 10 years. Now that you have the answer to the question, "What is a Public Relations Management?", you can decide if this will be your future title.