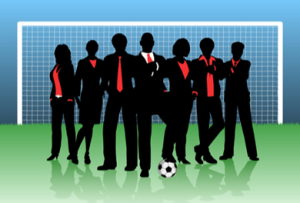 Sports marketing is a relatively new field that describes the business activities related to corporate sponsorships, sports-based advertising and universally recognized teams and athletes.
What is the Purpose?
Sports marketing uses well-recognized professional athletes, teams and leagues to raise brand awareness and differentiate products. Sports-based marketing has emerged as a very effective way for businesses to obtain competitive advantages over aggressive rivals. Sports-based marketing allows corporations to associate their brands and products with the enjoyment and excitement that audiences associate with games and athletes. Sports-based marketing borrows and blends promotional techniques from the fields of advertising, public relations and celebrity marketing.
Sample Campaigns
Event sponsorship is the most common sports-based marketing technique. This results in competitive bidding to obtain official sponsorship for globally recognized events, such as FIFA's World Cup and the NFL's Super Bowl. Team sponsorship is equally important because this is how companies establish long-term, mutually beneficial relationships with popular teams. Product production sponsorship is another example of sports-based marketing. This involves companies obtaining exclusive contracts to produce things like official uniforms and athletic equipment. During live broadcast sports events, companies buy expensive airtime for radio and TV ads.
Technology Innovations
Sports-based marketing is quickly embracing popular social media platforms and smartphone apps. Social media channels provide more attention, reach a broader audience and result in higher sales. Twitter and Facebook are the two most popular sites that sports-based marketing teams use to connect with fans. Companies who sponsor teams will provide exclusive content and updates to fans who "like" or "follow" the social media site. The most active fans are often rewarded with prizes like free tickets and merchandise. Other companies allow access to online and real world activities with opportunities to interact with popular athletes.
What Careers are Available?
An event coordinator is a typical beginning job within professional athletic teams and sports-based marketing companies. They work with marketing managers and event directors to run initiatives and operations. Experienced event coordinators will directly deal with corporate sponsors to ensure that all their needs are met. After this position, they may become an account Coordinator and support executive staff with creating marketing strategies, planning of sporting events and coordinating corporate sponsorship activities. Some sports marketers become PR assistants with major sports leagues and associations. They work with sports merchandise manufacturers to ensure that sporting events successfully attract media attention.
Internships
Anyone who wishes to become a successful sports marketer will not only be a passionate fan, but have hands-on experience playing their target sport. Most positions require experience as an intern or volunteer. The NBA offers a 10-week internship program for current college students. They also offer an Associate Program that lasts between eight to 10 months. This program places recent graduates in key business departments within the NBA. On the corporate side, Nike offers internships for students and places them in design, technology and and communications departments.
In short, sports marketing focuses on promoting brand and company popularity through sponsoring and financially supporting athletic teams and events.
See also: Masters in Sports Marketing