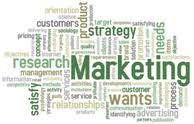 If you are interested in pursuing an upper-level position in marketing, you need to learn the difference between a master's degree in marketing and marketing MBA degree before you enroll in graduate school. Studying marketing is extremely important when you would like to advance your career and be welcomed with new opportunities. While studying marketing is important, it is even more important to select the right type of program based on what you plan on doing after graduation. If you are confused between master's and MBA marketing programs, read on and learn which one is right for you.
What is a Master's in Marketing?
A master's of marketing, otherwise known as the Master of Science in Marketing, is a specialized program that focuses on a single field. This type of program is designed to help students becomes experts in research so that they can earn high-level technical positions within the field of marketing. If you do not plan on pursuing a position in general management, but you want to hold an upper-level position, it would be best to study marketing by taking a MS program so that you can earn a top level staff title.
The classes that you are required to take when you are studying to earn a Master of Science will be entirely marketing based. Since you have already earned your undergraduate degree, you will not need to take general educational courses or beginner's classes. You will learn in depth curriculum that will cover anything from marketing concepts and principles to theories and analytics. Once you graduate, you will have a specialized knowledge in marketing and a high level of skill in the field.
Related Source: Jobs to Get with a Master's in Marketing
What is an MBA with a Concentration in Marketing?
A Master of Business Administration, more commonly referred to as an MBA, is a general business degree that prepares you for the field of business. If your goal is to become a manager or even an executive, earning an MBA with a specialty in marketing may be a better choice for you. If you choose to specialize in marketing, you will take some courses that focus on marketing, but the overall program will cover several different business-related subjects and real world issues.
Rather than attaining a specialized knowledge in the technical aspects of marketing, you will become a professional with a lot of knowledge on a broader scale. The incorporation of real world issues is what motivates many to opt for an MBA program rather than a master's. If you are sure that management is for you and you are not interested in becoming a researcher or technical staff member, compare the MBA programs and be sure to choose a specialty that will take you the furthest in your career.
With the growing popularity of the Internet, more and more companies are putting a very strong focus on marketing. In fact, based on data collected online by Wanted Analytics, the demand for hiring marketers in on the rise. As the demand continues to rise, the gap between applicants and job listings will continue to grow. While marketing is a competitive field, arming yourself with a graduate level degree will even out the playing field. Now that you know the difference between a master's degree in marketing and marketing MBA degree, you can start studying so that you are well equipped.