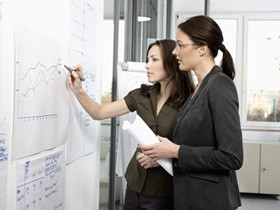 If you are interested in working in marketing management, learning about the average product marketing manager salary can help you decide if this is the right field for you. Marketing is a very large and diverse discipline where you can pursue a wide variety of titles. Each professional in marketing has a different level of responsibility and a different set of roles.
A product marketing manager is in charge of promoting a specific type of product that is manufactured by a specific brand. They will identify target markets, choose marketing tactics, recommend pricing strategies, define the product benefits, forecast an ROI and more. With so many different responsibilities, it is easy to see why managers are paid so well in all environments. Read on, and learn what you need to know about the average salary to play this role in an organization.
What is the Average Salary in the Nation?
Now that you have a general idea of what a product marketing manager does, it is time to learn about how much you can earn when you work in this role. Based on reports published by the Bureau of Labor Statistics, marketing managers earn an average wage of $119,480 per year. It is very important for anyone who is researching the national average to realize that this figure takes into account all of the salaries reported in all regions. The high and the low salaries can affect the average. This means that, depending on your region and your level of experience, your earnings can be dramatically different. As long as you keep this in mind, using the average salary can be helpful.
Considering the Compensation Package in Addition to Earnings
In addition to your earnings that you take home, you will also need to consider the entire compensation package. A quality compensation package includes many different benefits that are very valuable to employees. Your medical benefits, vision, dental, paid time off, tuition reimbursement, retirement matching and other benefits cost the employer money. The better the benefits, the more you actually make on an annual basis. Respected employers offer their product marketing managers very good benefits that can cost a company thousands of dollars each year. The average benefits package can cost $15,000 to $20,000. This is important to keep in mind as you are comparing job offers.
Pay Will Go Up With Experience
As with most industries, marketing managers must prove themselves in their roles before they reach their top pay range. You may earn a salary in the lowest 10th percentile when you are promoted into the position and then work your way up as your product sales go up and your campaigns are a success. Your educational background and experience will dictate how much you earn. This is important to keep in mind as you compare pay scales.
Related Resource: Market Research Analyst
You should always consider your region and whether or not you are willing to relocate to earn more money or to land a position quickly. Marketing professionals will need to climb their way up the ladder before they will hold a management title. As you climb, your salary will grow. Now that you understand what to look out for when comparing each product marketing manager salary, you can decide if this is the right title for you to pursue.