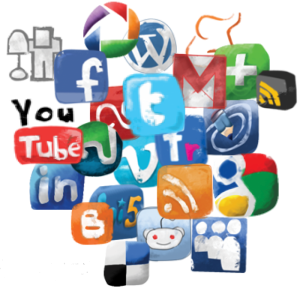 With the number of people shopping, reading and searching for information online every day, it's not surprising that there are now thousands of jobs available in social media marketing. Though colleges don't offer degree programs in this field, those schools do offer courses on social media marketing that shows students how they can advertise products and services online. The combination of those classes and the experience that you have using social networking sites can help you find work in a number of positions.
Social Media Account Manager
A social media account manager is someone responsible for the social media used by a company every day. Account managers work with advertising executives, writers and marketing experts to increase a company's online presence and make shoppers want to buy items from that company. As a manager, you assign tasks to certain workers, make sure that the campaign goes smoothly and come up with ways to advertise online and offline. You need experience using Twitter, Facebook, Instagram and other popular sites.
Social Media Ad Exec
Some of the jobs available in social media marketing are with major marketing and advertising firms. As an ad executive, you meet with the clients turning to your firm with help writing Twitter posts, creating and operating a Facebook page and using other sites to increase the general awareness of its brand. You take their wishes and needs back to your company and work with others to create products for your client. If your client isn't happy, you'll go back to the drawing board and start over again. Though you may not spend much time creating the content yourself, you will work closely with those producers and with your clients.
Content Producers
Content producers are writers and editors who companies and individuals pay for the content they produce. With Facebook and Twitter, companies have the chance to share coupons, discounts and news with shoppers and Internet users, but many companies have problems figuring out how to write concise posts that will appeal to readers. As a content producer, you take the information they want to share and break it down into small nuggets of content that you can post via their Twitter page, Facebook page or other sites. Some producers also create videos and images for clients that fans can share.
Blog Specialist
According to the Bureau of Labor Statistics, writers and authors earn a median annual salary of nearly $56,000 a year. This figure includes professional textbook authors, those writing popular fiction books and other types of writing. Writing jobs available in social media marketing often make less than the median national average, but you can make a living as a blog specialist. Many companies use blog posts as a way to get people to their websites, and the information they provide keeps those readers around and entices them to make purchases with the company. Blog writers usually create posts of 400 words or less that include keywords and phrases identified by the client.
Related Resource: Internet Marketing Jobs
People of all ages now use social media to stay in touch with loved ones, share their interests and find new products and discounts for products they love. As more people turn to the Internet for help, the number of jobs available in social media marketing, including positions as blog specialists, content producers, ad execs and managers, will increase.