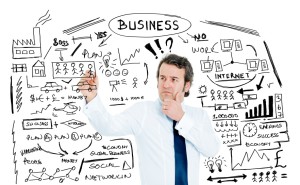 All of the activities related to advertising and selling products or services fall under the discipline of marketing, and some of those who have paid their dues in entry level marketing positions can look forward to gaining management jobs in marketing. Marketing professionals are present at all phases of a company's product life cycle. They help senior leadership develop concepts well enough to sell ideas to potential investors, and they apply quantitative methods to help set prices once products are ready for public distribution. Here are some examples of management jobs within the field of marketing as well as the academic and professional credentials that help to prepare business professionals for these positions.
Marketing Manager
A company's marketing manager is at the heart of nearly all marketing operations for its products and services. These professionals gain real consumer preference information about their companies' products by setting up focus groups of select prospective consumers, asking them prepared questions about the companies' products and watching how focus group participants interact with new products. The information that marketing managers gain from these activities help them to recommend product modifications that will best meet the needs of their target customers. They are also able to better assist with the planning of advertising campaigns through the feedback that they receive from focus group answers and actions. Marketing managers must be detailed oriented and have excellent research and interpersonal skills. Most marketing managers have at least an undergraduate degree in marketing or business administration, and a few are hired with degrees in psychology. Competition is high for marketing management jobs, and many marketing manager candidates come to the interview table with advanced degrees in business and certifications like the Professional Certified Marketer. According to the Bureau of Labor Statistics (BLS), the job of marketing manager is one of the highest paid positions of all jobs within the business discipline; marketing managers earned median annual salaries of $127,130 in 2012. Also, the demand for marketing managers with international business experience and education is on the rise as many companies seek to expand their operations into global markets.
Public Relations Manager
Public relations managers are responsible for controlling the ways that their companies are perceived by the public. This involves a good deal of research about the activities and ideas that targeted customers value. Public relations managers use this type of research to plan creative events that positively promote their companies. These marketing professionals are also skilled at damage control. Public relations managers deflect negative and unsolicited comments during press conferences and interviews, dispel pernicious rumors about the company and reiterate the positive qualities that are characteristic of their company's reputation in the market place. According to the BLS, public relations managers earned annual median salaries of $95,450 in 2012, and the rate of job growth for the profession is said to be as fast as the average for all jobs surveyed. Public relations managers usually have an undergraduate degree in marketing or communications with concentrations in public relations. These professionals make themselves more competitive in the job market by joining and networking with the Public Relations Society of America.
Sales Manager
The sales of a company's products or services directly drives its revenues and profits, and many mid to large sized companies of all types amply hire sales representatives to help maintain and grow their businesses. Some sales representatives who demonstrate leadership abilities and excellent job performance move out of these entry level positions and into sales manager positions. These managers set sales goals for their teams, analyze sales related data and create incentives to achieve higher levels of productivity among their teams. They are also responsible for making sure that their team gets the latest training on new product features and innovative sales techniques. According to the Bureau of Labor Statistics, sales managers earned annual median salaries of $105,260 in 2012, and the projected rate of growth for the profession is as fast as the average for all jobs surveyed by the BLS. These managers usually have an undergraduate degree in marketing or business administration, several years of sales experience and extensive on the job sales training.
Related Resource: Online Marketing Degree
Conclusion
Many new marketing degree graduates are disheartened by the lack of variety of entry level marketing jobs that will allow them to showcase the skills that they have developed during their years as undergraduates. Most marketing majors spend several years in sales positions if they want to remain eligible for management jobs in their chosen field later. The listed management jobs in marketing are often on the career wish lists of many marketing professionals who plan to move beyond entry level, sales positions.