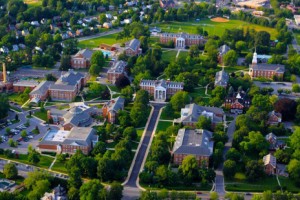 An alternative to the more common MBA degrees with concentrations in marketing, masters in marketing programs take a more targeted approach to preparing future marketing managers and executives. Masters in Marketing Programs emphasize specialized coursework and experiential learning opportunities. Marketing is a dynamic and cutting-edge field, and masters in marketing programs reflect this dynamism with classes covering social media, brand management, global marketing and other strategies for success in modern marketing. Graduates are prepared for careers as brand managers, public relations managers, advertising account executives, market research analysts and chief marketing officers.
Details of Best Masters in Marketing Programs
During the school selection process, prospective Masters in Marketing Programs students should consider factors such as program strengths and faculty reputation, in addition to the school's rankings and corporate connections. Following are five top-notch schools offering quality Masters in Marketing Programs.
University of Cincinnati, Carl H. Linder College of Business
The University of Cincinnati's Master of Science in Marketing degree is a 32-credit program that can be completed in two semesters of full-time study. A part-time study option, entailing 1 or 2 classes per semester, is available for students already working professionally. The program's well-rounded curriculum covers all aspects of modern marketing, including branding, social media, market research and international marketing. Students complete 15 credits of foundational coursework, as well as 16 credits of marketing-related electives tailored to each student's individual academic and career goals. Students are also encouraged to augment their marketing portfolios while earning elective credits through summer internships or cooperative education experiences. The program culminates with a client engagement capstone project, which requires students to work with outside clients in order to identify and solve an actual company issue.
The school bases admissions decisions on undergraduate GPAs, GMAT or GRE scores, letters of recommendations and resumes or curricula vitarum. As of 2012, tuition was $10,273.00 per semester for in-state students or $12,645.00 per semester for out-of-state students. Scholarships are available to qualified students, and a limited number of graduate assistantships may also be available.
University of Colorado – Denver, Business School
Students in the University of Colorado – Denver's M.S. in Marketing  program benefit from top-rated faculty and a well-balanced, 30-credit curriculum. Core courses focus on marketing management, marketing strategy, international marketing and buyer behavior. UC Denver offers seven highly specialized and unique concentration options, including marketing and sustainability, sports and entertainment marketing and internet marketing. Students also have the opportunity to customize their own degree programs by selecting three marketing-related electives tailored to their own career goals and interests. Students may also elect to complete an internship for elective credit. UC Denver's dual degree option enables students to earn both an MBA and an M.S. in Marketing concurrently, in less time than would be required to complete them separately.
For admissions consideration, students should submit undergraduate transcripts and GMAT scores. Previous work experience is viewed positively by the admissions committee, but is not mandatory for acceptance into the program. In 2012, in-state tuition was $496.00 per credit, while out-of-state tuition was $1,169.00 per credit. Scholarships and financial aid are available to eligible applicants.
Columbia University, Business School
For degree candidates who aspire to an Ivy League education, Columbia University's M.S. in Marketing provides the rigorous and in-depth academic coursework of a PhD program, but with a targeted focus on real-world career preparation. This intense, one-year program is designed to prepare academically distinguished graduates for marketing research positions. The curriculum encompasses 30 total credits, including four core courses, two MBA-program marketing electives and a minimum of four further electives, which may be chosen from the school's PhD program or from other departments at Columbia University. In the final semester, students undertake a guided research project or research seminar, under the advisement of affiliate faculty members.
Columbia University accepts applications from college seniors as well as from candidates with professional experience. The program's admissions committee considers each applicant's undergraduate academic performance, GRE or GMAT scores, application essay, letters of recommendation and resume or curriculum vitae. In 2012, the total tuition cost for the program was $50,000.00. Columbia University does not offer need-based or merit-based scholarships to master's level marketing students, but students may apply for federal financial aid.
Temple University, Fox School of Business
Ranked among the top 100 business schools by U.S. News and World Report, Temple University offers Masters in Marketing Programs with two possible tracks, one in marketing research and one in marketing communications. The program's faculty comprises of academic researchers with extensive industry experience. Degree candidates must complete 30 total credits, which include a core curriculum to develop fundamental skills, and elective classes that can be customized to each student's career interests. Beyond the completion of required classes, the Fox School of Business aims to graduate students with analytic abilities, verbal and written communication skills, decision-making skills and a demonstrated understanding of business concepts and marketing processes. Toward these ends, the program emphasizes the conducting of research and market analysis, and the development of written reports and strategy plans for actual organizations.
To apply, a prospective student must submit GMAT or GRE scores, undergraduate transcripts, a current professional resume, references and an essay. In 2012, the in-state tuition rate was $24,381.00 per year, while the out-of-state tuition rate was $34,749.00. Qualified students may apply for merit-based scholarships and federal financial aid.
Texas A&M University, Mays Business School
Mays Business School at Texas A&M University is one of the top-rated business schools in the South, as ranked by the Princeton Review. TAMU's M.S. in Marketing program emphasizes the real world application of cutting-edge marketing tools and technology. The program can be completed in three semesters. Coursework covers topics including marketing communications, marketing consulting, marketing research and marketing strategy. Degree candidates in the program take advantage of a number of unique educational opportunities. Throughout their academic careers, students work closely with TAMU's internationally noted Center for Retailing Studies, a research institution recognized as a leading source for retailing industry knowledge and services. In the spring term, teams of marketing students are matched with companies from among the program's more than 60 corporate sponsors. Each team undertakes a semester-long project designed to foster invaluable hands-on learning experiences and the development of business leadership skills.
Admissions factors considered include undergraduate GPAs, GMAT or GRE scores, work experience, honors and extracurricular activities, demonstrated leadership and academic potential. The admissions process includes a personal or telephone interview. In 2012, Texas residents paid $8,156.00 per year in tuition, while non-residents paid $19,424.00. A limited number of departmental graduate assistantships are offered to qualified applicants.
In the ever more competitive field of marketing, a master's degree from a respected, high-ranking academic program can help to open career opportunities. What is just as important, however, is that the program's curriculum complements a student's career goals while providing a sense of confidence in the fundamentals of modern marketing. When comparing masters in marketing programs, a potential degree candidate should research each school, speak with advisors and alumni, and choose the program that best matches individual interests and aspirations.
Additional Resource:  Top 10 Best Online Masters in Marketing Degree Programs