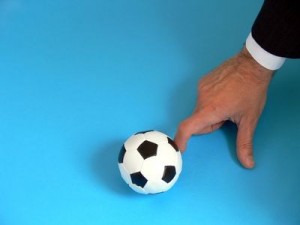 A Masters in Sports Marketing degree is a specialized marketing degree that prepares students to work within the business side of the sports industry. Sports marketing can include promotion of sports teams and events, the use of sports figures, teams or events to promote various products, or promotion of a particular sport itself in order to increase participation in that sport. Students interested in the business side of sports will likely seek a Sports Marketing degree as a specialization within business, sports management or sports administration programs.
Many schools that offer Sports Marketing degrees do so through their schools of Business. Students take coursework in advertising, public relations, and media positioning along with more general business courses as they relate to the sports industry. Sports fans interested in obtaining a masters degree in marketing or marketing majors interested in joining this 200 billion dollar a year sports industry would benefit from gaining the masters degree in Sports Marketing.
How to Find the Top Masters in Sports Marketing Degree Programs
Top ranking and accredited schools offering a specialized masters course in Sports Marketing include Indiana University, University of Oregon, and the University of Florida. The best masters in Sports Marketing degrees involve internship and networking opportunities to give students an edge in this highly competitive field.
Indiana University offers its Masters of Sports Marketing degree through its department of kinesiology and includes coursework within its business school, an internship, and regular guest speakers from various sports venues. At the University of Oregon, students gain both classroom and real-world experience through attending the Warsaw Sports Marketing Center, listed as the first sports business program. University of Oregon graduates are highly sought after in the industry. The University of Florida offers the advantage of being able to earn a masters in Sports Marketing through its dual degree program, which allows students to gain both a Bachelors and Masters degree within five years rather than the traditional six years.
For distance learning, some of the best online Masters in Sports Marketing programs are found within more general marketing or sports management programs. Full Sail University offers an online Masters of Science program in Entertainment Business & Sports Management. Within this degree, the student can specialize in Sports Marketing while learning about various aspects of working in the business end of the sports industry. Following a general marketing degree option, some of the top ranking accredited online programs can be found at the University of Phoenix and Capella University. Both offer an MBA in Marketing that can be geared toward a specific venue, such as entertainment or sports.
Careers and Salaries for Someone with a Masters in Sports Marketing Degree
Masters in Sports Marketing careers can combine a love of sports with an aptitude for selling and can earn upwards of $50,000 annually. Jobs in this field include advertising and promotions manager, group sales, marketing analyst, and marketing executive. On the upper end of the salary range in this field, masters in Sports Marketing salaries can top $80,000 annually. In addition, Sports Marketing Communications careers can take a candidate into online marketing and public relations jobs with similar salary ranges at the entry and mid-career levels, or into positions as vice president of sales and marketing and marketing directors with salaries that can reach into six figures annually. Regardless of which career path is chosen, candidates with a Masters in Sports Marketing can be assured that job growth in this field continues to stay strong, with projections that this field will grow at least 13 percent through the year 2018.
Additional Resource: Top 10 Best Online Masters in Marketing Degree Programs