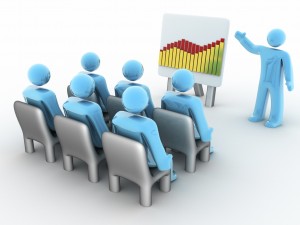 A sales channel marketing executive is the executive in charge overseeing channel management teams and actions. Channel management, which is not a priority in all businesses, is the process in business where formalized programs are created in an effort to sell and service clients on specific sales channels. By managing the channels that are used to distribute products to an end-user or services to a client, the company can identify which marketing tactics are best to communicate to a target market. The channel marketing executive is responsible for setting goals and managing the entire sales channel marketing team. Find out more about the duties of this executive-level professional, and decide if this is the title you would like to pursue.
What Are the Responsibilities of a Channel Sales Marketing Executive?
As a director in charge of overseeing the sales channel, the channel sales marketing executive will set the short-term and the long-term strategies pertaining to sales channel selection. You will analyze reports, translate the outcome of initiatives, and then take this information to other executives. The executive is also in charge of setting channel sales policies and initiatives and then evaluating the efficiency of programs that are currently being implemented. As an executive level professional, you will be in charge of the entire channel management team. This includes the channel sales managers, sales channel representatives, sales support and some marketing team members.
How Can You Become a Sales Channel Marketing Exec?
As more and more companies who want to expand to more markets are realizing, sales channel management is an important aspect of marketing. Because of this, many larger organizations are creating separate channel management processes outside of the general marketing department. If you want too fill some of the positions that are being created as the demand rises, now is the time.
The first step to becoming an executive in this area of marketing is to earn a Bachelor's degree. A degree in marketing or sales can be very helpful, but a general degree in business is acceptable. Once you have your degree, you will need to attain at least 10 years of experience in the field as a lower level employee. Many will start as a channel sales representative and work their way up through the ranks as a supervisor and then a manager before they will be eligible for a director or executive title. Many will transition from marketing management or account manager positions to sales channel management as well.
Salary of Channel Marketing Directors
Many need to see the average salary of professionals holding high ranking titles to influence them to work hard in the industry. As an executive, you can expect to earn a much higher salary than mid-level employees do. Channel Sales directors in the U.S. average a salary of $135,166 per year, according to data collected by Salary.com. All professionals surveyed reported earning between $94,503 and $178,518 per year and this does not include bonuses that many executives earn annually.
Related Resource: Market Research Analyst
If you want to be the highest ranking part of the team in charge of selecting sales channels and strategizing for new marketing moves in the future, this could be the title for you. Find out more about the roles of the sales channel marketing executive, decide if you can handle the stress, and then make a realistic and well thought out decision.