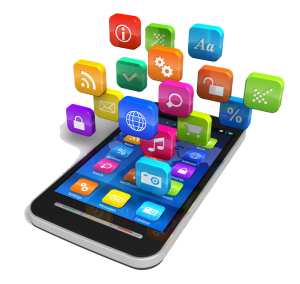 Looking at the types of jobs available in mobile marketing is one of the easiest ways to determine if the courses you take in college will help you land a job in the field. Mobile marketing refers to the advertising campaigns and efforts that companies and organizations use to reach those using their tablets and smartphones. Though some of these jobs are similar to the jobs you might see relating to website development, other positions focus more on hooking readers and smartphone users through online ads.
Social Media Marketing Analyst
A social media marketing analyst is someone who looks at the social media presence of a company or organization and analyzes those efforts. Some analysts work for one specific company, but you can make more when you operate your own company and work for multiple groups at the same time. You must remain up to date with mobile advertising campaigns, the ads used on Facebook and other social networking sites and any changes to the operating of search engine websites that might make the ranking of the company you work for drop.
Game and App Developers
Game and app developers are two of the more growing types of jobs available in mobile marketing. Many developers create apps that they sell for a small amount of money. The marketplaces they sell through take a percentage of the price and give the developers the remaining balance. As the price of apps keeps dropping, more users look for cheaper and free apps. Developers create games and apps that come with ads that run along the top of the screen or along the side. You either charge the advertisers a set price for including those ads or accept a percentage of any sales generated by those ads.
Mobile Advertising Developers
Despite the rise in popularity of smartphones, some website owners still rely on older and outdated pages that don't work well on those devices. The pages take too long to load, feature too many graphics that interferes with the view and feature an unusual layout. Mobile advertising developers help those website owners create pages that load quickly and hook viewers immediately. You also work with those owners to create ad space that runs on the page and generates income without getting in the way of viewers. Some developers even go the extra step and locate advertisers willing to work with site owners.
Content Specialist
Not all types of jobs available in mobile marketing focus on developing games, apps and ads. Many mobile site owners need content specialists willing to write content that will increase the page's ranking and generate more page views. Glassdoor found that the salary for an online writer ranges from around $800 a month to more than $70,000 a year. Those working for famous sites, including CNN and other news sources, often make more than contractors working for multiple companies earn. To work as a content specialist, you must have an understanding of how search engines work and how to create content that viewers can read on smartphones and other mobile devices.
Related Resource: Internet Marketing Jobs
The world of mobile marketing changed the way people did business and made money online. Content specialists, game and app developers and the other types of jobs available in mobile marketing let you create your own company, work from home or work with one of the top companies in the world.