Share this infographic on your site!
All companies want social media buzz. But not all buzz is created equal. Let's look at the companies that made a stir in 2013 for all the wrong reasons.
HMV
January 2013
The British entertainment retailer announced mass layoffs but neglected to take away the media team's access to the company's Twitter account. An employee began live-tweeting mass firings, hash-tagging it #hmvXFactorFiring. Over a period of about 20 minutes, the employee chronicled the mass firings (190 people in all were let go) in real time. It's worth mentioning, HMV's Twitter follower count rose as a result of the incident.
Before
61,500
After
73,350
Now
80,100
Tesco
January 2013
A seemingly innocent tweet ("It's sleepy time so we're off to hit the hay!") was a victim of terrible timing: Just hours before, the company announced it was removing beef tainted with horsemeat from its shelves. Guess nobody told the social media team. For its part, Tesco said the tweet had been scheduled before news broke of the horsemeat scandal, which the company blames for a drop in 2013 revenue.
TIP: Scheduled tweets can be a time-saver, but don't rely too much on them.
The Onion
February 2013
The satirical news website was forced to do what no comedian ever wants to do — apologize. The night of the Academy Awards, the publication tweeted: "Everyone else seems afraid to say it, but that Quvenzhane Wallis is kind of a c*nt, right? #Oscars2013." See, the joke was that Wallis, nominated for "Beasts of the Southern Wild," was just 9 years old, and that's not the kind of insult usually aimed at such young children. The Onion CEO Steve Hannah apologized to Wallis and the Academy of Motion Picture Arts and Sciences. The hashtag #unfollowtheOnion soon spread.
Burger King
February 2013
An unwanted Twitter makeover (thanks to hackers) turned Burger King's Twitter page into an ad for its rival, McDonald's. What followed was a string of tweets about drug abuse by employees. The account gained tens of thousands of followers during the cyber-attack, so it's hard to fully label this a mistake.
Spearmint Rhino
March 2013
The strip club's Melbourne team thought they had a cheeky game on their hands when they posted a baby photo of one of their dancers and asked Facebook users to guess who the lucky lady was. It didn't take long for users to look at the VHS screenshot's time stamp and realize the future stripper was only 15 years old.
Epicurious
April 2013
While the city of Boston reeled from a deadly terrorist attack on its iconic marathon, cooking site Epicurious posted some tweets best described as, well, curious: "In honor of Boston and New England, may we suggest: whole grain cranberry scones!" and "Boston, our hearts are with you. Here's a bowl of breakfast energy we could all use to start today." Epicurious representatives apologized, and the tweets were haphazardly deleted.
TIP: Don't attempt to tie otherwise unrelated tweets to a news event, particularly a tragic one.
Amy's Baking Company
May 2013
After a bizarre appearance on Fox's "Kitchen Nightmares" Amy and Samy Bouzaglo, the owners of Amy's Baking Company, were inundated by negative feedback via their social media accounts. The pair fired back with expletive-laden rants against, possibly, social media itself, particularly Yelp and Reddit. They initially claimed their accounts were hacked, and they may have the last maniacal laugh, as the two are now hawking merchandise based on their insane episode.
Home Depot
November 2013
The company tweeted a picture of two black men using Home Depot buckets as drums with a person in a gorilla mask in between them and asked: "Which drummer is not like the others?" Whether the tweet was borne out of racism or stupidity, it was quickly pulled, but not before Twitter users screen-capped the image and retweeted it widely. The company apologized for the tweet and fired the social media agency responsible.
Kmart
November 2013
In a double whammy of corporate greed and utter cluelessness, Kmart riled customers when it happily announced its stores would open earlier on Thanksgiving and stay open throughout the following day. Instead of marveling at the deals, customers complained about the ethics of forcing its employees to work longer hours on a holiday. Rather than issuing thoughtful responses, Kmart's social media team replied with something short of thoughtful: "Kmart is staffing w/teams & seasonal associates when possible, giving them opportunity to make extra money during holiday."
TIP: Choose your words carefully; Twitter doesn't always allow for reasonable discussions. A Facebook post or link to a longer statement is often a better option.
JPMorgan Chase
November 2013
One of the biggest banks in the U.S., Chase thought hosting a Twitter Q&A session would be a good idea. Not so fast. Before the event could even start, Twitter users took over the hashtag Chase had created for the event (#AskJPM) and used it to pose less-than-flattering questions, ranging from the silly to the serious. The bank was forced to cancel the Q&A.
TIP: Self-awareness is key; don't assume everyone on the Internet has the same view of your company as you do.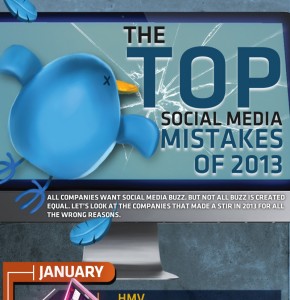 SOURCES:
http://www.complex.com
http://www.dailymail.co.uk
http://econsultancy.com
http://www.businessinsider.com
http://www.huffingtonpost.com
http://www.chron.com
http://www.thedailybeast.com
http://boston.grubstreet.com
http://www.forbes.com